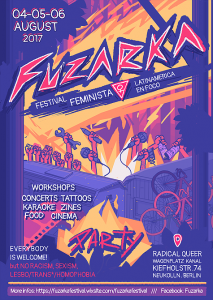 04, 05, 06/AUGUST 2017 @ Radical Queer Wagenplatz Kanal
Fuzarka Festival Feminista – Latinamerica in focus – would like to
invite you all to an event that focuses on topics through art,
workshops, lectures and expressions to spark empowerment, conversations
and provoke the exchange of ideas and knowledge. The festival will take
place the first weekend of August, in Radical Queer Wagenplatz Kanal,
Berlin. The program will consist in workshops, concerts, exhibitions,
debates, films, zines/publications, food and party!!
FRIDAY 04:
17h – Opening + Chill music with Isa
18h – Introduction to Astrology/ Natal charts reading with Leni and Meri
20h – KARAOKÊÊÊÊ !!
SATURDAY 05:
15h – Opening + Chilling on Glitter 80's with Toro
16h – Bike workshop + How to make ur D.I.Y. flogger
with Fabi
16h – Silkscreening D.I.Y with Adri + Tato
17h – Discussion: "Struggle Schools" with Mah
18h – Workshop D.I.Y. tattoo with Laura
20h – Concerts
Sanni (electronic singer-songwriter)
Anti-Corpos (hardcore lésbica feminista)
https://anti-corpos.bandcamp.com/
Trespass (instrumental garage Gaze)
Rainhas do Norte (feminist percussion pop from Brazil)
http://rainhas.de/
23h – PARTY!! ****
Djanes:
Pi+
(https://soundcloud.com/riampitson)
+Faé Gandaia Fantástica – Nara!Malu!Marina!+
+Grace Kelly+
(https://soundcloud.com/djgracekelly)
+AndShe+
(https://soundcloud.com/andshe)
SUNDAY 06:
15h – Opening + Brunch Pool B.B.Q.!! +
Musik with Lili – latino-american louge
16h – Workshop Self defense with Van
20h – Feed Back about the Festival
21h – Acoustic Concert + Open Mic
EVERYBODY IS WELCOME!
but NO RACISM, SEXISM, LESBO/TRANS*/HOMOPHOBIA!
more infos: https://fuzarkafestival.wixsite.com/fuzarkafestival
Facebook: https://www.facebook.com/FuzarkaFestival/