when: 13th may
where: Radical queer Wagenplatz kanal, kiefholzstrasse 74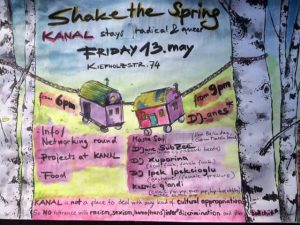 Salam everybody
Let's connect with eachother and dance all night.
We want to shake the spring!
Feel free to invite your friends.
From 6pm:
Info/networking round, intruduction/partizipation of/in the projects at Kanal, eating together
From 9pm: Time to Shake with great DJ_anes*
**DJane SubZee (hot'n'spicy // azaadi beats)
*Masta Sai (Best Berlinistan Garam Masala Sound: dari, 3arabi, kurdî, farsi, hindi, turki,pashto, latin, urdu, dancehall,afro & hip hop dance vibes!)
*MC Xuparina (soul, funk, favela funk)
*DJ Ipek Ipekcioglu (gayhane / female:pressure)
*kos_mic q'andi (hiphop, r'n'b, pop & middle-eastern pop)
Radical Queer wagenplatz Kanal
https://kanal.squat.net/
>>> KANAL is not a place to deal with any kind of Cultural Appropriation. so NO tolerance with racism, sexism, Inter*/trans*/Homo-Discrimination and other bullshit. check your class privilege<<<
-In this link you can read our political statement to know more about our political ideas.:
https://kanal.squat.net/?cat=14
-And join our mailing list just with sending a email on kanal[at]squat.net with subject "list".
#kanalbleibt